TATTOO REMOVAL APPLICATION


Deadline for consideration: July 10, 2021

Registration iscurrently closed
for 2021


After you hit "APPLY NOW", please stay
on the page for further instructions!

HOW DOES LASER TATTOO REMOVAL WORK?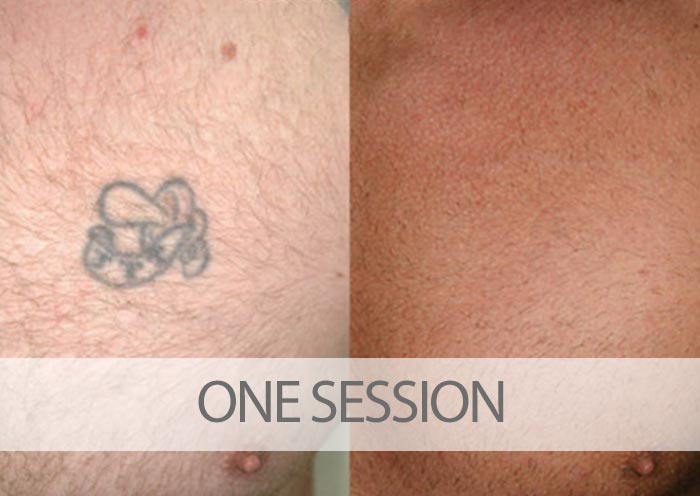 During a laser tattoo removal procedure, the practitioner guides a laser over the area of the tattoo. Unlike a laser pointer that produces a continuous beam of light, tattoo removal lasers produce pulses of light energy. Each pulse of energy penetrates the skin and is absorbed by the tattoo ink. As the tattoo ink particles absorb the energy, they heat up and then shatter into tiny fragments. Then, over the weeks following treatment, the body's immune system flushes the tattoo ink particles away from the location, lightening the appearance of the tattoo. Each laser treatment breaks down more and more of the tattoo ink until none remains. The number of sessions depends on the age of the tattoo, the type of ink, skintype, and the size of the artwork.

The small print: you should know that tattoo removal is a multi step process that may require 4 or more treatments. Our tattoo removal is performed with laser power and is not completely pain-free but is highly effective. Patients may experience some discomfort that is generally managed with over the counter pain reliever. This program is specifically designed to help people eliminate "hate themed tattoos" to be determined by the doctor and staff. If selected for this event, you will receive a free consultation to talk about the process. Before your tattoo removal, you will be required to sign medical consent forms and other medical related materials. Your doctor will provide an estimate as to how much of the tattoo can be removed and will set expectations for outcomes, however not all tattoo inks are easily removed. Please note: due to demand, not everyone who applies will be accepted into the program. Non-hate related tattoos are not eligible but will be offered a free consultation with the doctor.


Clinton Webster, Medical Director

Dr. Clinton Webster is a board-certified Oklahoma City plastic surgeon dedicated to changing the lives of men and women throughout the city. Specializing in nonsurgical and surgical hair restoration, plastic surgery, liposuction, breast augmentation, body contouring and cosmetic skin rejuvenation, Dr. Webster creates gorgeous, natural results that can last a lifetime. Born and raised in Oklahoma City, Dr. Webster chose to establish his medical there. He proudly treats patients all over the country via online consultations for those who cannot easily come

to his office personally. Call us today for more details.